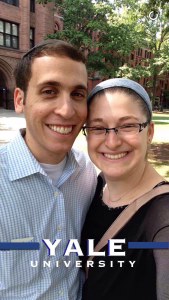 Sarah Jaffe Kasdan was born and raised in the suburbs of Cleveland, Ohio, where she attended Fuchs Mizrachi School. She spent a year after high school studying in the Old City of Jerusalem at Midreshet Harova. Sarah graduated from Brandeis University with a Bachelor's degree in Psychology and Education. While there, she served as a Girl Scout troop leader, in addition to holding numerous leadership positions in the Brandeis Orthodox Organization (most notably Gabbai Shlishi and Sunday Night Learning Coordinator).
Sarah has gotten her feet wet in a variety of Jewish education roles, having served as a counselor at Camp Stone, Hebrew school teacher, intern for the Genesis High School Program, and kollel member at the Young Israel of Scarsdale. Sarah currently works as a 4th grade General Studies teacher at Yeshivat Noam in Paramus, NJ, and is simultaneously pursuing a Master's Degree in Literacy Education from Bank Street College of Education. In her free time, Sarah enjoys doing Zumba, baking, and watching the Gilmore Girls revival with her husband, Daniel (we're not done yet, so no spoilers!).
Hailing from the other side of Teaneck, NJ, Daniel Kasdan is a fourth year rabbinical student at Rabbi Isaac Elchanan Theological Seminary (RIETS) in Washington Heights. After graduating from The Frisch School, he spent a year studying at Yeshivat Sha'arei Mevaseret Zion on the outskirts of Jerusalem. Daniel then attended Brandeis University, majoring in Near Eastern and Judaic Studies and minoring in Creative Writing. While there, he was an active member of the campus Hillel: he served on the board of the Brandeis Orthodox Organization for two years, co-chaired and staffed the Hillel first-year retreat, acted as a student mashgiach on Shabbos, shared words of Torah in between mincha and maariv, and led multiple chaburot in the Beit Midrash.
Daniel also served as student intern for JLIC at Brandeis during his senior year, a precursor of what was to come. Just weeks after graduating, he returned to Brandeis to staff Genesis, a pluralistic educational program for Jewish high school students. Since entering RIETS, Daniel spent two summers in the Boca Raton Synagogue summer kollel and two winters in the Young Israel of Scarsdale Kehillat Beit Midrash, and currently teaches a weekly parsha class to prospective converts. In addition to his semicha studies, he is pursuing a master's in Medieval Jewish History from the Bernard Revel Graduate School of Jewish Studies.
Now to the fun stuff. In his free time, Daniel enjoys reading (especially thriller novels and Jewish history books), eating Chickies sandwiches, and finding inspiration in classic movies. He is a regular contributor to the James Bond fan forums online, and was featured on CBS News for his lightsaber duel in AMC Empire 25 on opening night of Star Wars Episode VII. If the opportunity arises, Daniel can remove a splinter from most people without them even noticing, a skill he perfected in Camp Moshava's infirmary. He aspires to visit each of the United States, and loves hocking with new people.